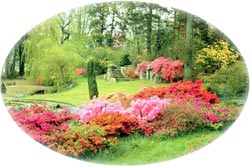 The Best Deal in the Universe...
Totally Free!
"No eye has seen, no ear has heard,
no mind has conceived what God has
prepared for those who love Him."
--1 Corinthians 2:9.
An invitation to something wonderful and beautiful--a happy and joyful place--Heaven is a totally safe place.
"And they shall dwell securely in it, and they shall build houses and plant vineyards." --Ezekiel 28:26.
"The work of righteousness will be peace, and the effect of righteousness, quietness and assurance forever. My people will dwell in a peaceful habitation, in secure dwellings, and in quiet resting places." --Isaiah 32:17, 18.
"Your eyes will see the King in His beauty;...your eyes will see Jerusalem, a quiet home,...and the inhabitant will not say, 'I am sick'; the people who dwell in it will be forgiven their iniquity." --Isaiah 33:17, 20, 21, 24.
"Violence shall no longer be heard in the land, neither wasting nor destruction...the Lord will be to you an everlasting light, and your God your glory." --Isaiah 60:18, 19.
"I create new heavens and a new earth;...be glad and rejoice forever...the voice of weeping shall no longer be heard..." --Isaiah 65:17-19.
Heaven is a free gift to everyone who accepts God's gracious offer. "Ho! Everyone who thirsts, come to the waters; and you who have no money, come, buy and eat. Yes, come, buy wine and milk without money and without price." --Isaiah 55:1.
"For the wages of sin is death, but the free gift of God is eternal life in Jesus Christ our Lord." --Romans 6:23.
"For by grace you have been saved through faith; and this is not your own doing, it is the gift of God--not because of works, lest any man should boast." --Ephesians 2:8, 9.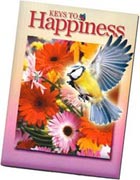 Accept Heaven's offer today, it is totally free. "The Spirit and the Bride say, 'Come!' And let him who hears say, 'Come!' And let him who thirsts, come. Whoever desires, let him take the water of life freely." --Revelation 22:17.
---
| | |
| --- | --- |
| The book "Keys to Happiness" can be read online under the title, "Steps to Christ." It provides practical counsel on how to establish a relationship with Christ and how to grow closer to Him. | Click here to read "Keys to Happiness" |