Under the Blood Banner
Eric Kreye and Norma Youngberg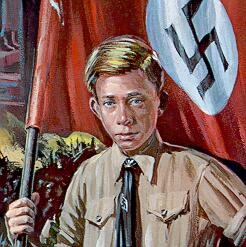 The Story of a Hitler Youth
Names and some details have been changed to protect privacy.
Copyright by Eric Kreye -- Illustrations by John Steel
---
Introduction
This story was experienced by me as a child. Although the story is directed primarily to boys and girls, the hearts of many young parents have been captured as well. We have attempted to instill values, such as loyalty to family, allegiance to country, honesty, integrity, and faithfulness to God.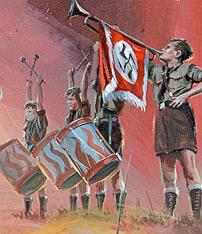 I spent some time with my father in Germany prior to the writing of this story to get an adult's view of Hitler's philosophy. Also I wanted to make sure that my memories of World War II were as accurate as possible--to make the story not only interesting but meaningful to the young reader.
The primary purpose for sharing my personal story on the Internet, regardless of the age of the reader, is to show how this great and amazing God of the universe carefully guards and guides each person on Planet Earth!
My second purpose in sharing this experience is to help counteract the false belief today among some that the atrocities against the Jews during World War II are pure fabrication.
Finally, I want to encourage every reader to do whatever is possible to stop the ever-increasing violence, oppression, abuse, hate, immorality, in our flawed yet beautiful world. There is a better way. Peace, security, and happiness can be yours through the power and grace of Jesus Christ.
The story of my Hitler Youth experiences has been reprinted and is available now through TEACH Services, Brushton, NY, toll-free in US: 1-800-732-2664, or order via their Website: Under the Blood Banner.